Buy my awesome house!
I moved to Galesburg, Illinois in 2003, and in 2005 I bought a beautiful century-old house. I loved its open first-floor, where I could entertain, and I really loved its hardwood floors and original windows and unpainted wood trim. (Click to zoom on any photo.)
Over the course of the next few years, I had a new roof put on: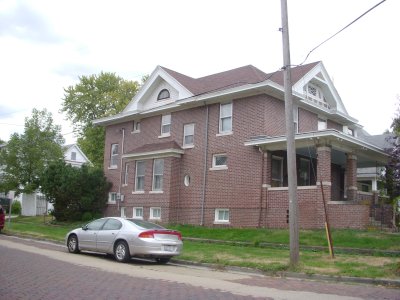 And I planted a bunch of trees and other landscaping: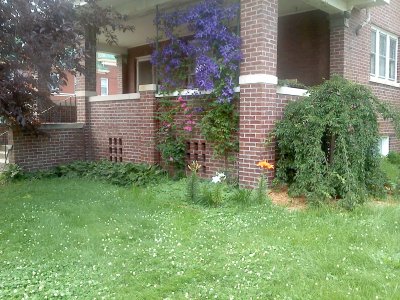 And I fully renovated the downstairs bathroom (I kept the clawfoot tub, but the other fixtures were replaced, not to mention the ceiling, wall, and floor):
And those are just the highlights; it's fun owning a century-old house! All my updates were meant for the long term ("builder-grade" is something of a dirty word to my ear), but a job-related move took me permanently out-of-state, and so my nifty house is for sale. Sad for me, but good news for you: it's in great condition and is ready to move in. As mentioned above, the floors are hardwood and the trim is unpainted except in the kitchen and bathrooms. The windows are the original double-hung wood-sash windows, with aluminum storm windows providing decent energy efficiency. (Between the brick exterior and the storm windows, the energy bills were comparable to much-newer houses of a similar size.) And it's an easy walk to downtown Galesburg and Knox College; when I worked at Knox, I rarely drove unless I had bulky stuff to transport. (It's also not bad for getting out of town; when I worked at Monmouth, Broad to Main was a direct route to US 34 without a lot of stop signs, stop lights, or traffic. And Broad is usually among the first streets plowed in a snowfall.)
This house is 2,808 square feet of gorgeous. And that's just the two main floors; there's also a full basement and full attic (neither one currently finished, although with stair access and wood floors, the attic certainly could be). The upstairs has four bedrooms and a full bath, with stairs both front and back; the downstairs has living room, dining room, eat-in kitchen, bathroom, and one room that could be a bedroom or could serve as an office or den. The air vents with their beautiful antique register covers carry both central air and gas-fired high-efficiency heat. The fridge, oven, and laundry machines are included with the house; both the oven and the dryer use natural gas, although a dedicated high-voltage circuit is available in the kitchen for an electric oven if you already have one.
I've listed the house for $79,900 with Mel Foster; see the official listing for more details, a lot more (and better) pictures, and contact info for Jackie Turner, the real estate agent. Also feel free to email me if you have any questions about the house!