Cousin Michael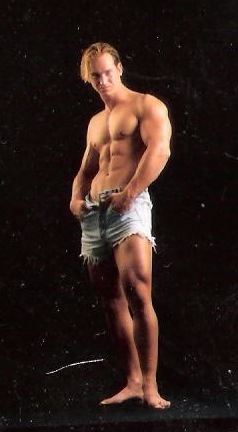 A couple weeks ago, I got another email out of the blue from Joe, a friend of my cousin Michael Blaheta. Three years ago Mike died, and I wrote an unfortunate angry post about the family not being contacted, followed by an apology a little later. Because he had so little net presence before, these are among the top google hits for his name, and people find him here.
Joe sent me a scan of a picture that Mike had given him once, and asked me to post it. Mike had something of a modelling career—I remember at least once gathering around the TV to see him on a talk show, and he'd gotten into magazines a few times—but the exact provenance of this photo is unknown.
As I was writing this post, I looked back and discovered that the original obituary page for him has been taken down, guest book and all (so much for a permanent record), and the obit site had blocked web crawlers so none of the internet archives have a copy. Legacy.com appears to have kept it but is now charging $3 for anyone who wants to read the guest book. Which is too bad, because a lot of people posted a lot of nice things about Mike there, and now anyone looking to find out what happened just finds the nasty batch of responses on my original angry post. :(
Anyone who wants to post guest-book-y things about Michael are perfectly welcome to do so here. I promise I won't ever charge anyone to see them.
"Above all else, I am a human being, just as you are." --Ingmar Bergman, "Nora" (Nora Helmer)
Posted by blahedo at 1:47pm on 24 Nov 2009