More painting
Painting the various paintable bits of my house is one of those on-and-off projects that will probably continue for years, but right now I'm trying to figure out the long-term scheme for it: I've been mostly using plain white for trim, but I think the gables need something a little more. Here, for instance, is the front of my house as it is now (or rather, was as of last fall—some of the stuff on the ground has changed a bit):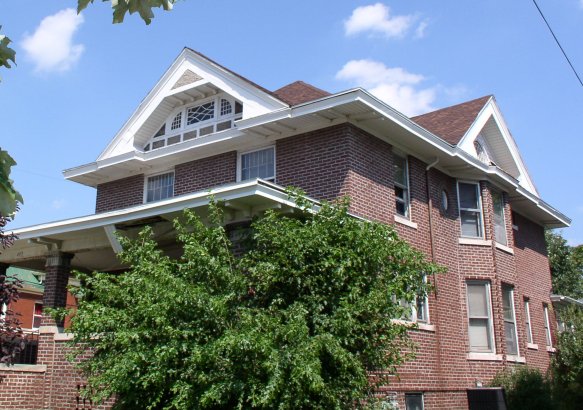 That pebbled stuff just looks a dingy grey, and some of the rest should be something other than white.
I've settled on shutter green as the accent, and I think a brownish-beige to match the lighter tones of the roof would be good for the pebbling. Where exactly the green will go is still an open question. Two options:

They're certainly not the only ones, either.
And then there are the two side gables, also all white right now (you can just make out one of them in the photo). I'm thinking this:


The field area here is not pebbling, it's actually old shingle siding (hence the lines).
It'll be a while until I do anything with this, but I was playing with the graphics program so I figured I'd post. :)
"A mild-mannered neighbor most of the year, Snowblowerman---he wears many parkas---turns into a hero when the flakes fall. All he asks in return is a jaunty wave." --Eric Zorn
Posted by blahedo at 1:08am on 20 May 2008