Ummm... bitte?
This is so gratuitous, and so Apple. I just filled out a survey about my recent AppleCare call, and after I clicked submit, I was presented with the following page: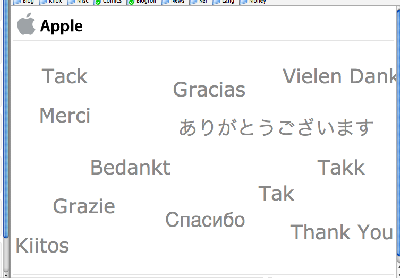 It is, in case you can't tell, a massive (and abused) HTML table with "Thanks" written in a dozen languages.* Of course, the AppleCare call was to their US line, the call was conducted in English, the followup survey was in English, and they certainly know that I'm an English speaker that lives in the US. SO VERY Apple.
*English, French, Spanish, Italian, two different Germans (or maybe "Bedankt" is also Dutch?), Russian, Japanese, I'm guessing Finnish, and three that are evidently related to each other but I don't know what they are.
"The breakthrough idea that seals my allegience to Christ is that goodness may pour out abundantly even from a chalice of wickedness, and so it is in forgiving the wicked that we cultivate what good is to be found, for great good and great evil often mingle inextricably in the same vessel." --Jonathan Prykop
Posted by blahedo at 12:24am on 28 Aug 2007